COMPACT LINE GLK3 SERIES
The decoiler straigtener feeder GLK3 series is a highly integrated coil handling system. With safety operation and accuracy performance, it can handle a wide range of steel coils in the different metal stamping process.
Capacities
Applicable Material
Material Type: Cold-Rolled Steel, Hot-Rolled Steel, Galvanized Steel, Stainless Steel, Copper, Aluminum, etc.

Yield Strength: ≤245 N/mm2

Tensile Strength: ≤392 N/mm2

Material Thickness: 0.5 mm - 4.5 mm

Coil Wdith: 70mm to 1300mm

Coil Weight: 3ton/5ton/7ton/10ton
Feed Line Speed
0-20m per minute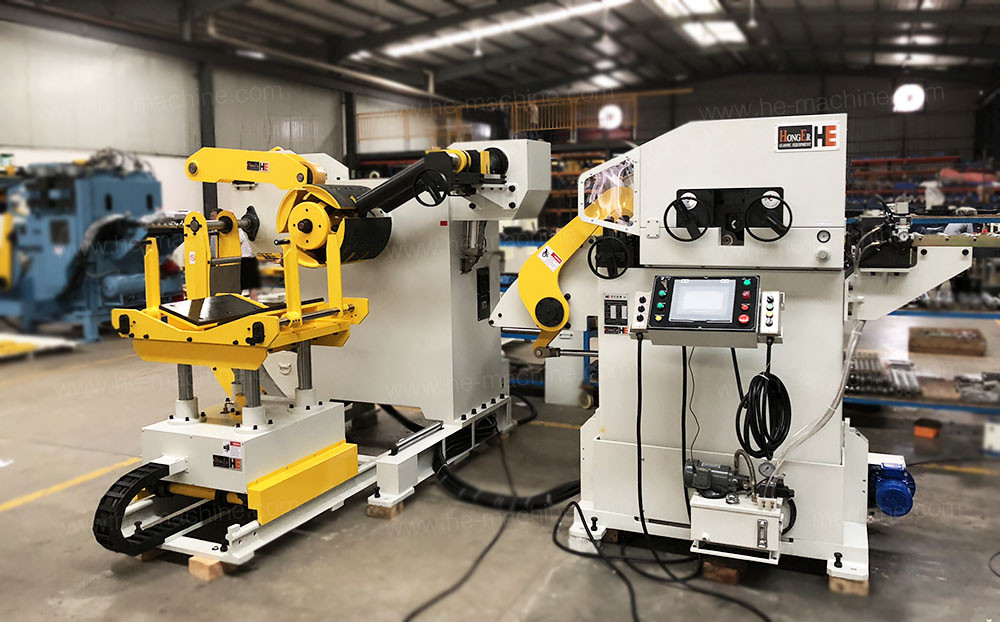 Features
Workspace Saving and Safety Operation
It combines decoiler, straightener, and feeder machine into one unit and controlled by a single touch screen. The advanced equipment configuration saves lots of workshop space. With an integrated control system, this decoiler straightener feeder is capable of a self-diagnosis system, which has maximum protection of the operator's safety.
Automatic Coil Threading
This coil feeding line series adopts adjustable coil guide rollers and pneumatic coil hold-up arm for smoothly coil threading. The pneumatic threading assists swing device prevents coil upwards, and leading material enters into straightener.
Wide Range of Applications
Compact line GLK3 series has a broader range of appropriate material. It can process metal thickness from 0.5mm to 4.5mm, coil width up to 1300mm. With quality straightening rollers and worm gear adjustment of upper rollers, It can handle most of the home appliance stamping material, achieves a high precision straightening performance.
Precision Feeding Performance
With world-leading electronic control systems (Mitsubishi, Siemens, ABB) for feeding control and pneumatic pilot release to eliminate feeding tolerance, the material feeding accuracy can maintain +/- 0.1mm under 500mm feeding length.
Main Parts
Coil Car (Option)
Coil car surface is wear-resistance for heavy-duty coil loading
The adjustable baffles on the coil car can prevent narrow coils from dumping and help for visual alignment
A hydraulic cylinder drives coil car lifting for smooth up and down
A hydraulic motor drives the coil car forwarding and backward
Limit switching and limit devices to prevent the movement offside
Remote handle control and touch screen control

Decoiler
Hydraulic spindle expansion, range from 470mm to 530mm
Delta inverter for a variable uncoiling speed
Pneumatic coil hold-down arm prevents material rebound and guarantees safe operation
Adjustable coil guides assembly for stable uncoiling process and prevent coil movement
Pneumatic coil hold-up arm for smoothly threading
Pneumatic disk brake system
Infrared photoelectric sensing loop control

Servo Straightener-Feeder

Pneumatic swing arm with roller for coil threading assist
Self-centering coil guide rollers, operated by hand-wheels
7pcs high-quality straightening rollers with bottom gear drive
Worm gear adjustment of upper rollers, operated by hand-wheels
Pneumatic upper rollers release for accuracy feeding performance
Motorized pass line height adjustment +/-100mm for different die height
Adjustable tailout support bracket for smooth delivery of material from the feeder to the press
Control System

Reliable servo-driven system
Self-diagnosis and alarm function
Smart straightening adjustment
Material end detection
Variety electric control system brand for option
High quality electronics brands
Specification
Specification Sheet

Model

GLK3-400

GLK3-600

GLK3-800

GLK3-1000

Mandrel Expansion Range

475-530mm

475-530mm

475-530mm

475-530mm

Material Thickness

0.5-4.5mm

0.5-4.5mm

0.5-4.5mm

0.5-4.5mm

Loading Capacity

5000kg

5000kg

7000kg

7000kg

Straightener Rollers

Φ68mm*7

Φ68mm*7

Φ68mm*7

Φ68mm*7

Feed Rollers

Φ88mm*2

Φ88mm*2

Φ88mm*2

Φ88mm*2

Decoiler Motor

2.2Kw

2.2Kw

3.7Kw

3.7Kw

Servo Motor

4.4Kw

4.4Kw

5.5Kw

7.5Kw
Straightening Capacity (Yield Strength: ≤245 N/mm2, Tensile Strength: ≤392 N/mm2 )

Model

GLK3-400

GLK3-600

GLK3-800

GLK3-1000

Material Thickness (mm)

0.3-0.8

400

600

800

1000

1.0

400

600

8000

750

1.2

400

600

700

600

1.6

400

590

480

430

1.8

400

500

420

380

2.0

400

430

370

330

2.3

400

360

320

290

2.8

370

290

250

250

3.2

300

250

220

220

4.5

160

160

150

110
Advanced Options
Electric coil guide rollers adjustment
Hydraulic coil hold-down arm
Wider decoiler expansion range up to 650mm
Customized coil outter diameter up to 1800mm
Customized loading capacity available
Electric straightening upper rollers adjustment
Automatic lubrication unit with capacity 20L
Hydraulic shearing device