COMPACT LINE GLK4 SERIES
Combined decoiler straightener feeder machine GLK4 series is our best seller model in the compact line. It's widely used in automotive parts stamping, and white goods production line, with multiple functions and high strength version available.
Capacities
Applicable Material
Material Type: High Strength Steel, Cold-Rolled Steel, Hot-Rolled Steel, Galvanized Steel, Stainless Steel, Copper, Aluminum, etc.

Yield Strength: ≤600 N/mm2

Tensile Strength: ≤960 N/mm2

Material Thickness: 0.6 mm - 6.0 mm

Coil Wdith: 70mm to 1600mm

Coil Weight: 5ton/7ton/10ton/15ton
Feed Line Speed
0-20m per minute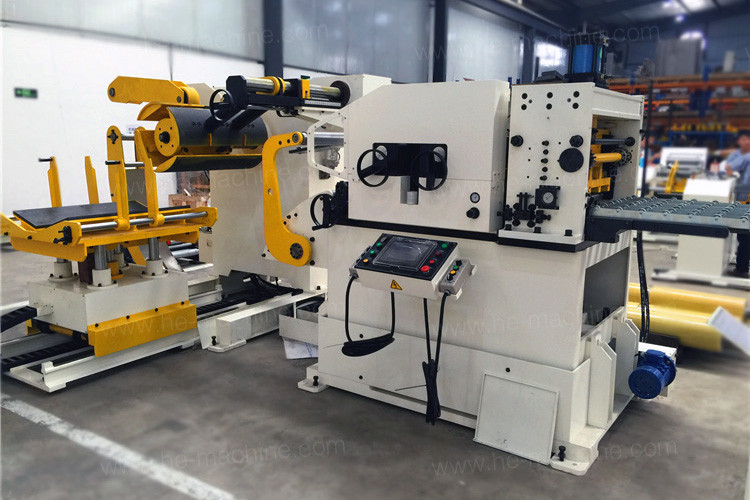 Features
Wide Range Material Processing
The compact coil feeding line GLK4 series is capable of handling material thickness from 0.6mm to 6.0mm, which is suitable for a variety kind of automotive parts stamping. The maximum applicable coil width can reach 1800mm. And there is also advanced version GLK4-H for high strength steel coil handling.
Automatic Coil Threading
This decoiler straightener feeder series adopts adjustable coil guide rollers and pneumatic coil hold-up arm for smoothly coil threading. The pneumatic threading assists swing device prevents coil upwards, and leading material enters into straightening part gently. HE also provides a fully automatic control option with handsfree loading and electric adjustment.
Back-up Rollers for Precision Straightening
Adopt with back up rollers, GLK4 series has back up rollers on the top and bottom of the straightening rollers. These groups of back up rollers will carry the separating force loads to achieve better straightening performance.
Reliable Machine Structure
The main body of the decoiler straightener feeder machine is processed in our CNC workshop by multiple treatments to make it reliable and long-lasting service. Rigid frame providing stable work for progressive metal stamping or laser cutting process. It eliminates the deflection of the sheet metal coil with a unique straightening structure.
Workspace Saving and Safety Operation
Compare to the traditional structure; the combined coil feeding line reduces the workplace from 15m to 5m. And the highly integrated control system is easy to operate and maintain. It provides automatic coil loading, which protects operators and saves labor costs.
Variety control system for option
Mitsubishi, Siemens, and ABB servo control systems are our standard options, and we also provide customized control system service.
Main Parts
Coil Car
Wear-resistance surface to load heavy-duty type metal coils
Movable coil guide baffles prevent narrow coils from dumping
Coil car lifting smoothly by hydraulic cylinder
Coil car movement drive by hydraulic motor
End stops to eliminate slipping of the coil
Remote handle control and touch screen control
Uncoiler
Uncoiler mandrel hydraulic expansion, range from 470mm to 530mm
Variable uncoiling speed control with Delta inverter
Decoiling speed synchronized with the straightening feeding device
Safe decoiling provided by pneumatic coil hold-down rollers
Pneumatic drive coil guide rollers for reliable coil threading into the straightener
Coil guide rollers distance adjusted by hand wheel
Decoiler mandrel rotation in both directions
Pneumatic coil support arm for smoothly threading
Independent coil hold-down arm and support arm system with a rigid structure
Pneumatic disk brake system
Photoelectric sensing loop control
A locking device to reduce coil changeover times
Decoiler mandrel rotates in both directions
Servo Straightener-Feeder

Reliable servo-driven straightener-feeder
Pneumatic coil threading assist assembly with pneumatic arm and sandblasted roller
Self-centering coil limiting rollers, adjusted by hand-wheels
Seven pieces straightener rollers, four over three
GCR 15 high-quality material with hardness HRC 60°
Bottom gear drive transmission
Back up rollers for precision straightening performance
Straightening precision 1.5mm/m2
Worm gear adjustment mechanism for straightening rollers gap adjusting
Handwheel adjustment of upper rollers
Pilot release with air cylinder
Electric pass line height adjustment +/-100mm for different die height

Control System

A single control panel for all units of the line, uncoiling, straightening, feeding
Automatic, manual and setup modes provided
The emergency stop feature and self-diagnosis system
Smart straightening adjustment
Variety electric control system brand for option
Specification
Specification Sheet

Model

GLK4-400

GLK4-600

GLK4-800

GLK4-1000

GLK4-1300

Mandrel Expansion Range

475-530mm

475-530mm

475-530mm

475-530mm

475-530mm

Material Thickness

0.6-6.0mm

0.6-6.0mm

0.6-6.0mm

0.6-6.0mm

0.6-6.0mm

Loading Capacity

5000kg

5000kg

7000kg

7000kg

10000kg

Straightener Rollers

Φ68mm*7

Φ68mm*7

Φ68mm*7

Φ68mm*7

Φ68mm*7

Feed Rollers

Φ88mm*2

Φ88mm*2

Φ88mm*2

Φ88mm*2

Φ88mm*2

Back-up Rollers

Φ68mm*220mm

Φ68mm*220mm

Φ68mm*220mm

Φ68mm*220mm

Φ68mm*220mm

Feeding Precision

±0.15mm

±0.15mm

±0.15mm

±0.15mm

±0.15mm

Decoiler Motor

2.2Kw

2.2Kw

3.7Kw

3.7Kw

7.5Kw

Servo Motor

5.5Kw

7.5Kw

7.5Kw

11Kw

11Kw
Straightening Capacity (Yield Strength: ≤245 N/mm2, Tensile Strength: ≤392 N/mm2 )

Model

GLK4-400

GLK4-600

GLK4-800

GLK4-1000

GLK4-1300

Material Thickness (mm)

0.6-1.3

400

600

800

1000

1300

2.0

400

600

800

1000

1300

2.3

400

600

800

1000

1300

2.5

400

600

800

1000

1170

2.8

400

600

800

933

933

3.2

400

600

714

714

714

4.0

400

457

457

457

457

4.5

361

361

361

361

361

5.0

293

293

293

293

293

6.0

203

203

203

203

203
Advanced Options
High strength version available
Roller type surface coil car for easy coil threading
Customized coil outer diameter up to 1800mm
Customized loading capacity available
Full automatic control, handsfree coil threading 
Decoiler mandrel expansion range up to 650mm
Motorized coil guide rolls adjustment
Hydraulic coil hold-down arm
Motorized coil hold-down PU wheel
Motorized upper rollers adjustment
Hydraulic shearing unit to cut material head or tail
Automatic lubrication unit to protect the stamping dies