Precision coil feeding line for metal thickness under 3.2mm
In the metal stamping line that uses coil material, a metal coil will be uncoiled, straightened and the feed into a stamping press. A versatility coil feeding will help you handle various type of coil material in a different situation.
Summary
Applicable Material
Material Type: Cold-Rolled Steel, Hot-Rolled Steel, Galvanized Steel, Stainless Steel, Copper, Aluminum, etc.

Yield Strength: ≤245 N/mm2

Tensile Strength: ≤392 N/mm2

Material Thickness: under3.5 mm
Feed Line Structure
Combined Uncoiler Straightener GL

Servo Coil Feeder RNC/NCF

Stamping Press 25-250ton
Feed Line Speed
0-20m per minute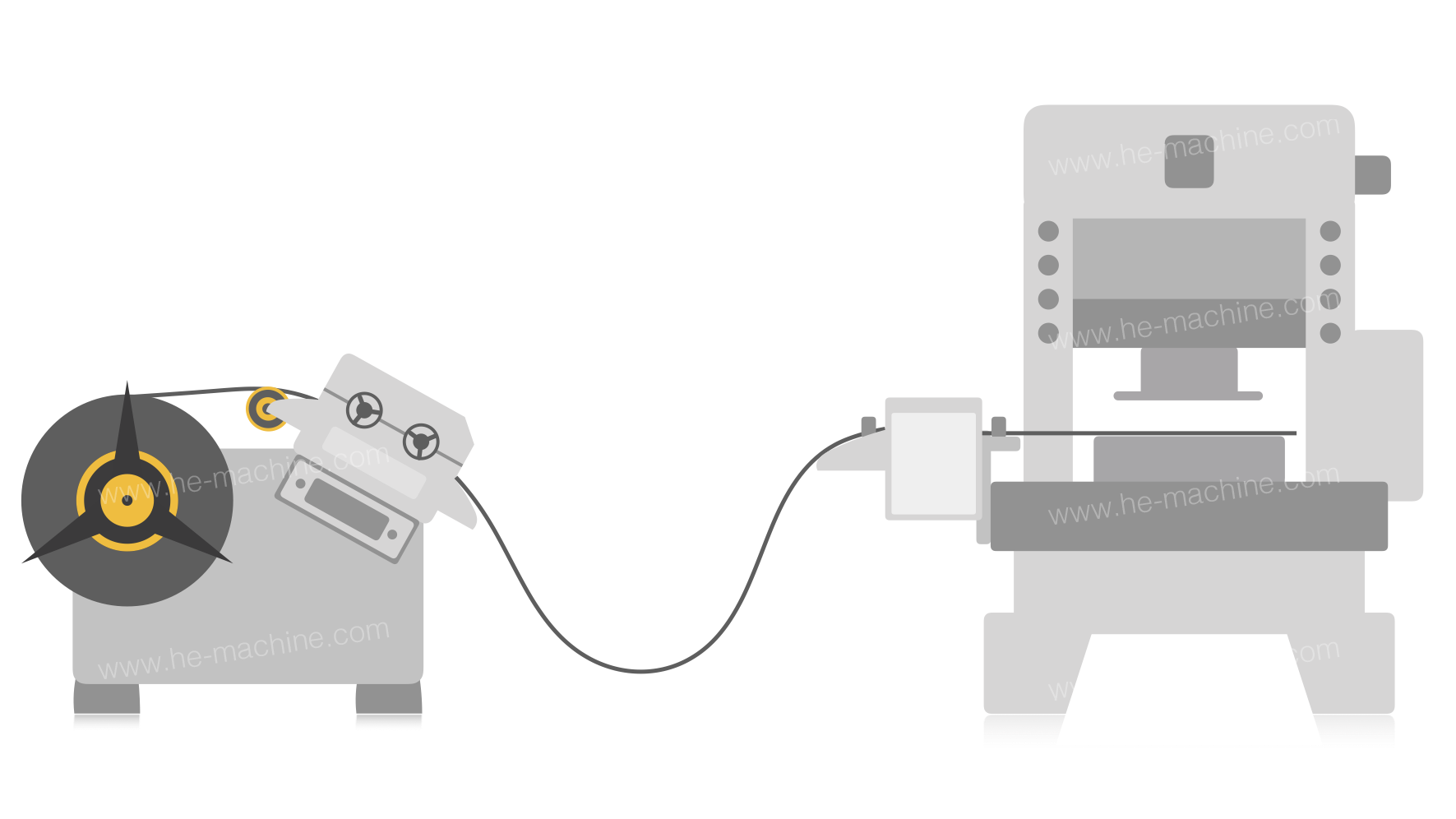 Features
Space-saving and high synchronization
This line combines the decoiler and straightener part, which saves the material loop space, and more importantly, it achieves the highly synchronize between uncoiling and straightening process.
Precision straightening performance
With 7pcs high-quality rollers, the combined decider straightener machine is capable of handling a variety of high precision straightening request. Moreover, the 15pcs rollers type is capable of handling the rigorous straightening requirements. And for some copper or aluminum material, it has operable straightening part for easy clean and maintenance.
For uncoilers, there's two expansion type for different coil weight range, manual expansion, and hydraulic expansion.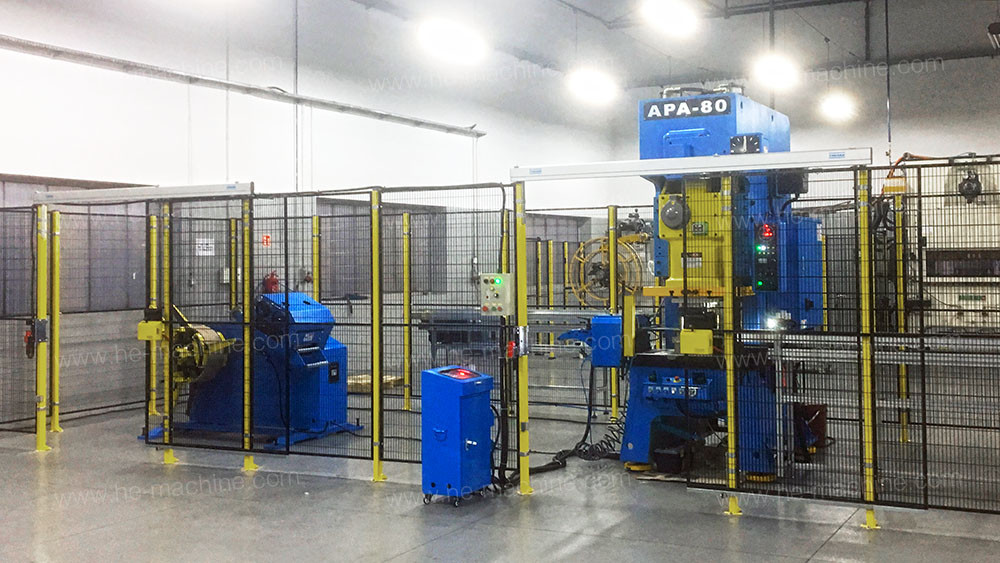 Main Parts & Description
Combined Uncoiler Straightener
Depends on different material type, there're passive uncoiler as well as motorized uncoiler. Passive uncoiler will be suitable for general stamping process.
When the thickness is thin, and surface requirements are particularly high, a motorized uncoiler parts will be applied.
When the coil is springy type, a hold-down arm with pneumatic pressure will be suitable for this situation.
All the rolls are made by Gcr15 bearing steel, with surface thickening chrome grinding. And the pressure on straightening rolls is the pneumatic type with worm wheel adjustment, for precision and smoothly straightening process.
Straightening Capacity GL-300 for reference

Yield Strength (N/mm2)

184

214

245

Tensile Strength (N/mm2)

294

343

392

Testing Pressure (kgf/mm2)

30

35

40

Material Thickness (mm)

0.3

300

300

(300)

0.5

300

300

300

0.8

300

300

300

1.0

300

300

300

1.2

300

300

300

1.4

300

300

300

1.6

300

300

258

2.0

300

268

235

2.2

280

210

185

2.5

256

190

157

2.8

220

166

123

3.0

186

110

89

Servo Coil Feeder
RNC-300 as an example reference
Release System: Pneumatic type Servo System: Yaskawa or Siemens

Feed Roll: Upper roll Ø65mm, bottom roller Ø80mm

Feeding Accuracy: ± 0.1 mm

Capacity Width: 300mm

Feeding Speed: 0-20m/min

Feeding Length: Max. 9999.99mm
Modular design and computer control system makes HE servo feeder easy to installation, intelligent to operation, and with precision feeding, small noise and easy maintenance.
Gap Frame Press APA-80
The press body is made by high-quality stress-relieved welded steel, with high stability and reliability of stamping precision.
It adopts a symmetrical design with two slid boards with balancer, to ensure the stable and smooth running.
With oxidized hardening and grinding treatment of crank, gear, and rod, the press machine achieves high durable mechanical performance.
And high-intensity clutch, brake, double electromagnetic valve, and overloaded protector guarantees high operational safety.
Gap frame press APA-80 specification

Model

APA-80

Type

V

H

Capacity

80 tons

Stroke

150 mm

70 mm

S.P.M. (Variable)

35-80

80-120

S.P.M. (Fixed)

65

Tonnage Rating Point

4 mm

2 mm

Die Height

340 mm

380 mm

Slide Adjust

80 mm

Slide Area

560 * 420 * 70 mm

Bolster Area

1000 * 550 * 90 mm

Shank Hole

Φ50 mm

Main Motor

VS7.5 * 4 (kw.p)

Air Pressure

6 kg/cm3

Dimension

1800 * 1180 * 2800 mm

Weight

6.5 T

Die Cushion Capacity

3.6 T

Die Cushion Stroke

70 mm

Die Cushion Area

450 * 310 mm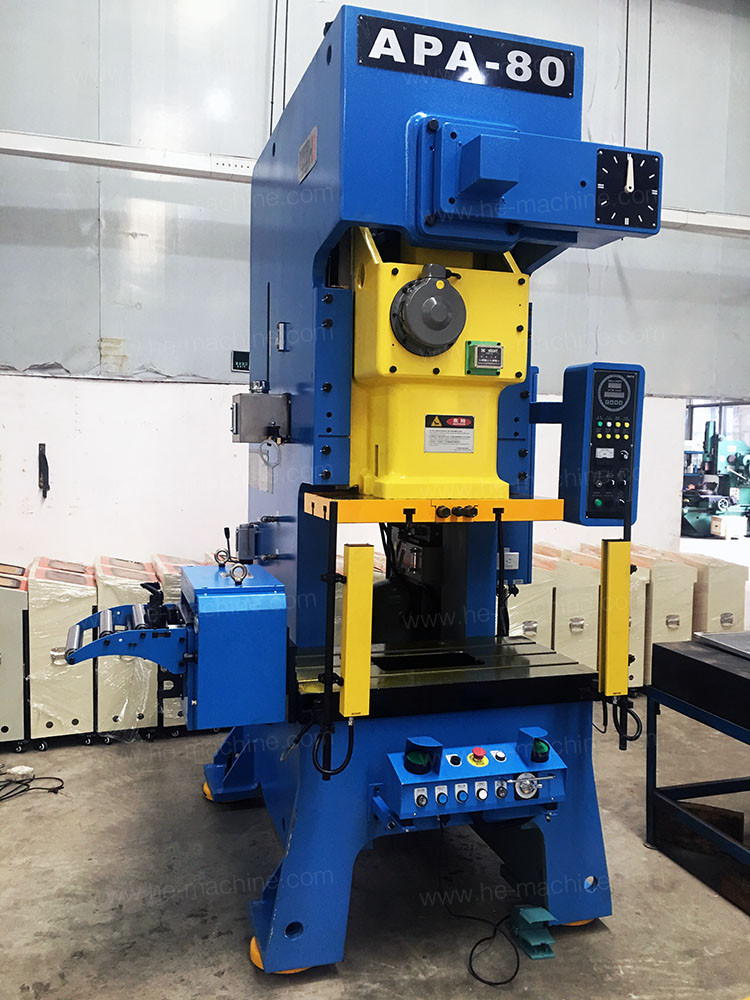 Stamped Product

Speaker mesh grills, Brake backing plate mesh