Multi-function coil feeding line for metal thickness 0.5-4.5mm
A multi-function coil feeding line is a perfect option for the material thickness around 4.0-4.5mm which requires a precision steel straightening process.
Summary
Applicable Material
Material Type: Cold-Rolled Steel, Hot-Rolled Steel, Galvanized Steel, Stainless Steel, Copper, Aluminum, etc.

Yield Strength: ≤245 N/mm2

Tensile Strength: ≤392 N/mm2

Material Thickness: 0.5 mm - 4.5 mm
Feed Line Structure
Uncoiler Straightener GL-H

Servo Roll Feeder RNC

Stamping Press 25-500ton
Feed Line Speed
0-20m per minute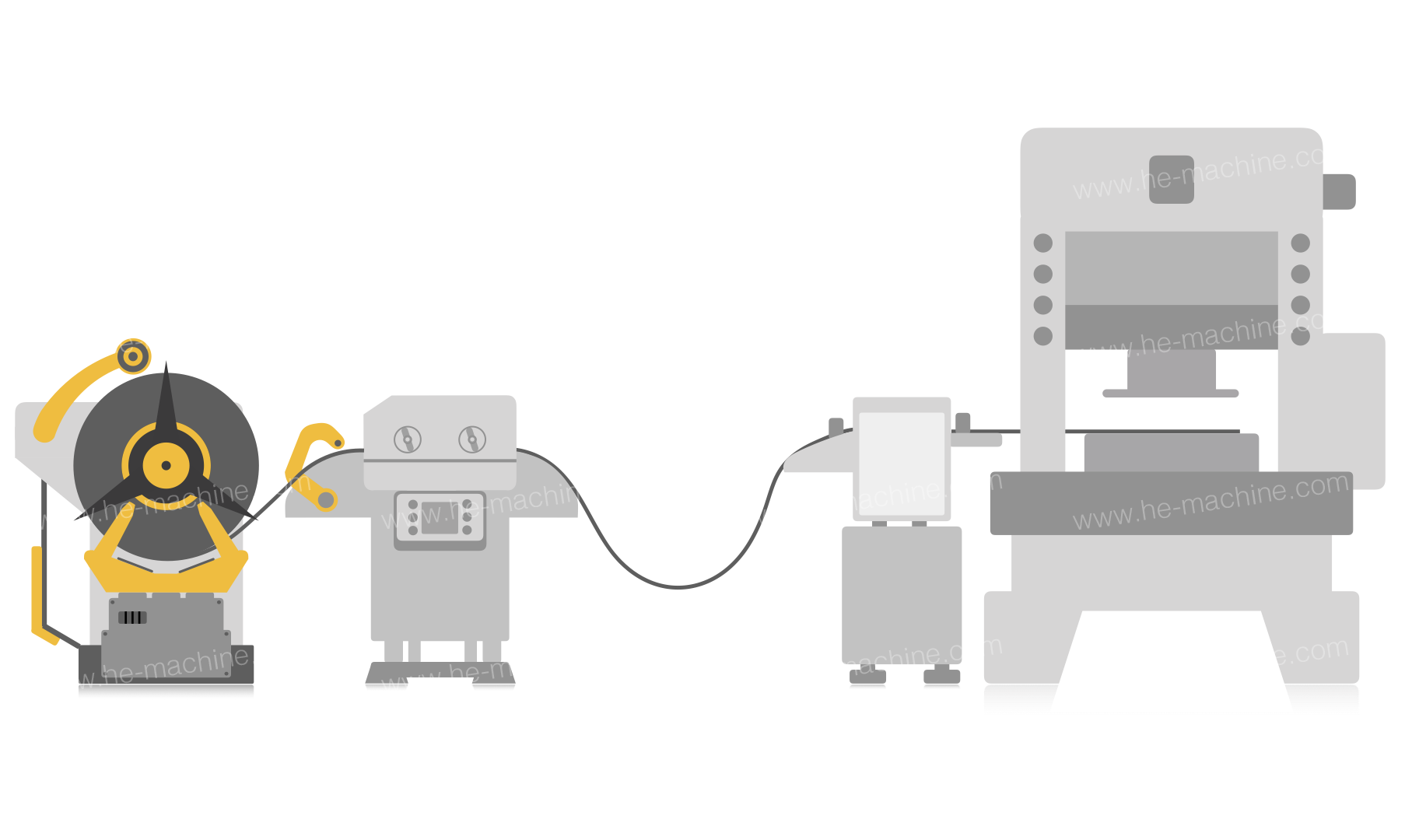 Features
Space-saving and easy coil threading
Compare to the loop type coil feeding, this line will save workspace between decoiler and straightener part. It integrates them into one system with high synchronization. And the coil hold-up arm and swingarm support make it easy coil threading.
Reliable straightening performance
With high-quality straightener rollers, precision worm gear adjustment, and secure electric control system, it achieves a reliable straightening performance for material thickness up to 4.5mm.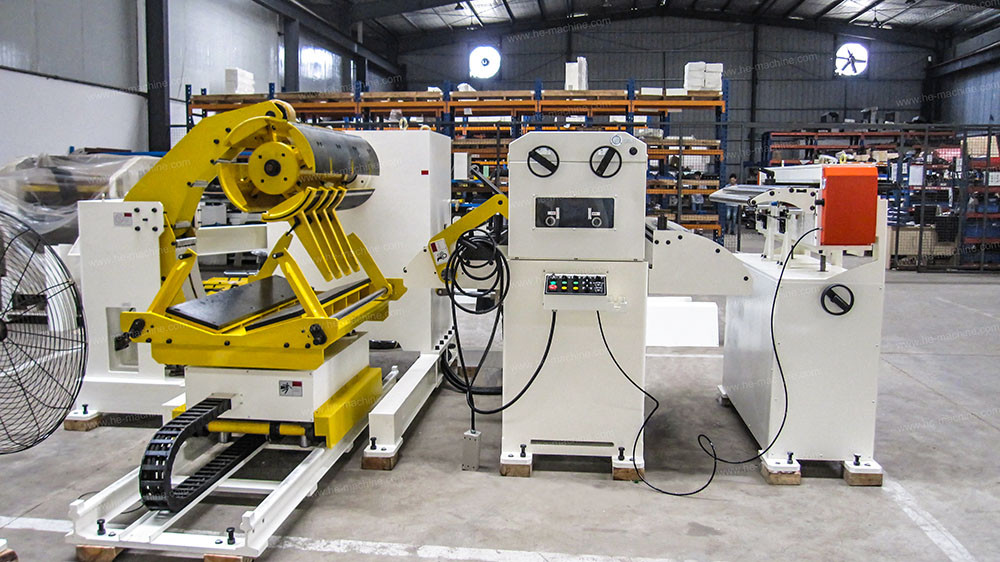 Main Parts & Description
Combined Uncoiler Straightener
The decoiler straightener parts are combined control system but have a loop type structure.
It has manual expansion uncoiler spindle for medium duty coil under 3tons. And hydraulic expansion uncoiler spindle is the option for heavy-duty coils up to 7tons. Uncoiler shaft is AC motor drive and has an inverter for variable speed control, with large pitch chain transmission and pneumatic disk brake system.
With pneumatic pressing arm to add pressure on the coil, there is also a pneumatic support arm for smoothly uncoiling. The support arm also equips the Omron photoelectric sensor for loop control and detective the loop abnormal.
Straightening Capacity GL-600 for reference

Yield Strength (N/mm2)

184

214

245

Tensile Strength (N/mm2)

294

343

392

Testing Pressure (kgf/mm2)

30

35

40

Material Thickness (mm)

0.6

600

600

(600)

0.8

600

600

600

1.0

600

600

600

1.2

600

600

600

1.4

600

600

600

1.6

600

600

600

2.0

600

553

510

2.3

525

481

422

2.5

500

420

397

2.8

455

389

321

3.2

417

334

299

4.0

387

289

267

4.5

325

253

203

5.0

275

220

183

6.0

189

167

110
Depends on actual material type and thickness, there will be an inlet support device to let the strip enter into straightening parts fast and smoothly. Coil inlet part has a manual wheel to adjust the limit rolls for different stock width. The maximum stock width that can be processed by this loop-type coil feeding line is 1300mm.
The quality of straightening roll is vital for precision straightening, so all of the HE straightening rolls are made by high quality bearing steel. With strict heat treatment and hard chrome plating surface treatment, the rolls have a long service lifetime and promise the precision straightening process. The standard rolls arrangement is 4pcs upper roller and 3pcs roll down, with pneumatic type pressure on rolls, and manual wheel for pressure adjustment.
Servo Coil Feeder with Standing Bracket
Servo feeder in this multi-function loop-type coil feeding line has an adjustable standing bracket. The standing bracket has a manual wheel to adjust the feeding line-height to suitable for different mold die height. A standing bracket also makes servo feeder work more stable than installing directly on stamping press.
The classic structural design ensures stable and reliable mechanical system, making it useful for many years with few maintenances. It has 4pcs of feed rolls, made by high quality bearing steel. After hardening treatment, the hardness reaches HRC60±2. In some particular situation, the outlet feed roll will process rubberized treatment to protect the sensitive material. Side gears drive the movement of the rollers, with ISO 6 accuracy standard, it guarantees precision mechanical movement.
The electric system is designed to meet European safety standards; all the electronic and pneumatic components are international brands for better system reliability and ease of maintenance.